Mark your calendars and join us on Friday, September 14, 2018, for another memorable evening.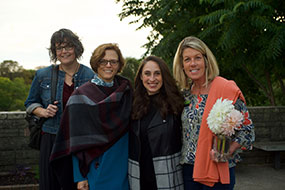 During last year's Harvest Party 200 guests strolled the Regenstein Fruit & Vegetable Garden while sipping cocktails, enjoying a variety of barbecue food stations, and listening to the sounds of live bluegrass music. Participants from the Chicago Botanic Garden's Windy City Harvest program held food demonstrations using produce grown on the local farms.
Established in 1998, the Guild supports the Garden through service projects, as well as fundraising events. The Guild has raised more than $2.9 million benefitting the Garden. Led by co-presidents Kim Vender Moffat and Emily Reynolds, the group has more than 100 members representing a diverse group of young leaders from the Chicago area. For more information about the Guild or the Harvest Party, call (847) 835-6958.
Proceeds benefitted Windy City Harvest, the Chicago Botanic Garden's urban agriculture education and jobs-training initiative to help build a local food system, healthier communities, and a greener economy.
Please contact Hannah Voss at (847) 835-6958 or hvoss@chicagobotanic.org for more information